The Design:
Apparently any solid electric guitar or bass-model like Strat, Tele, Les Paul, SG, PRS or even your own custom-design can be made in our 3-weeks course, Of course we are proud to offer you our own designs like the San-Fernando-guitar, the San-Francisco-bass or the designs of the Toro-instruments. Just look up our gallery of fotos and let the wide variety of instruments inspire you to make plans for your own dream guitar.
Construction Details:
We can make set neck or bolt on constructions, semi hollow guitars with routed out chambers, flat and carved tops, fretboards with binding and your custom inlay of abalone or makassar, matching headstock, diverse types of tremolo.
Electronics:
Piezo-bridges with eq/preamp onboard for acoustic sound or midi/Roland V8 interface, custom pick up´s (you wind and mount them yourself), custom wiring, split humbuckers, serial wiring and many more features…..
If you have any unusual ideas, don´t hesitate to ask us!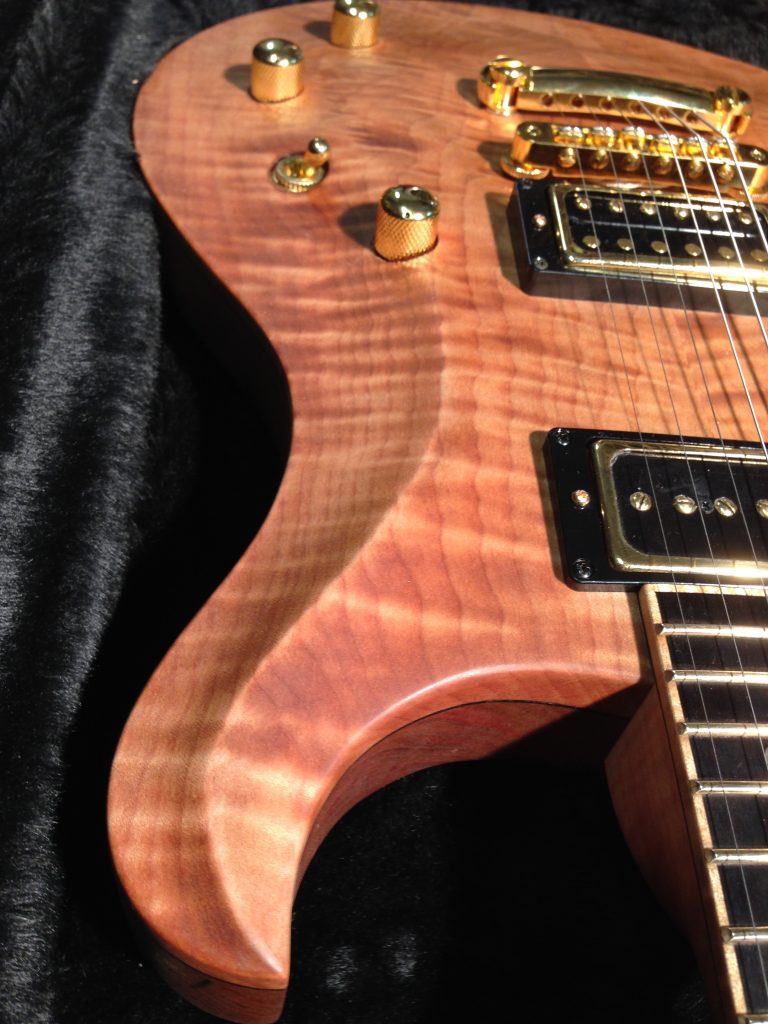 The Wood:
We have a great variety of wood for necks. bodies and tops in stock, but if we get your inscription and the filled in questionair in time, we can fulfill exotic wishes on request.
Our standart woods are swietenia and kaya(mahagony) for necks and bodies, canadian rockmaple and european maple, bubinga for basses, american walnut, corina, alder, lightweighed swamp ash, green Ash, curly and quilted maple for guitar tops and many more special woods.
The fingerboards are made from rosewood, african ebony or grenadil. Different scales are available.
As a standard feature on all instruments highest quality hardware and two selfwound pickups are the norm.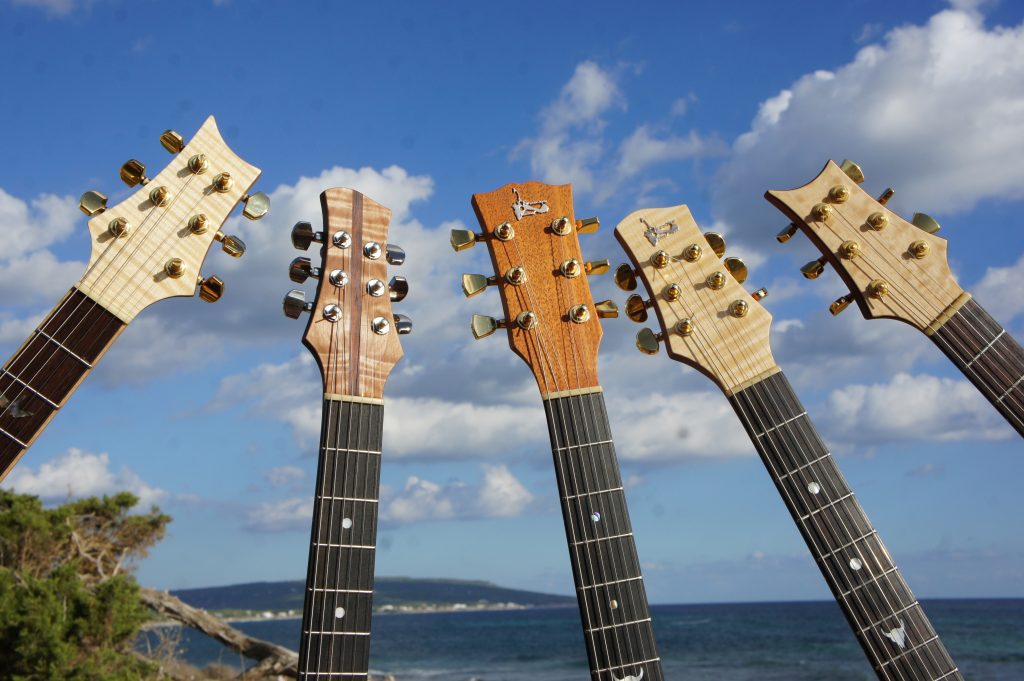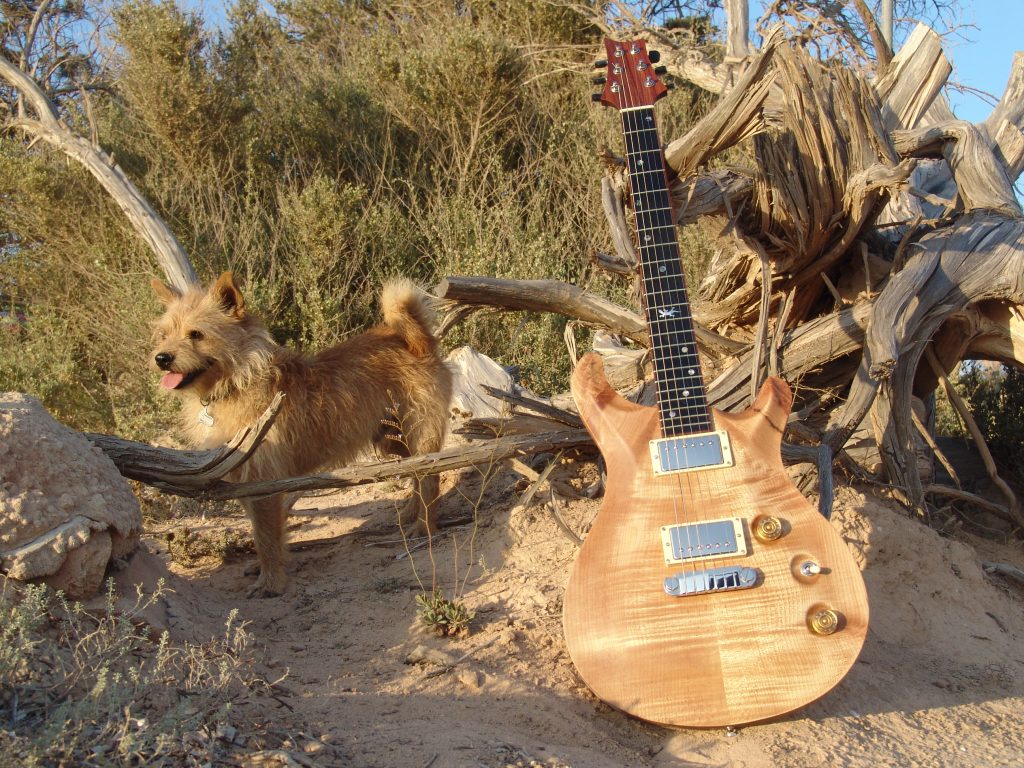 Guitar
included in the course price:
Solid electric guitar, optional with sound chambers, one piece or striped neck, individual neck width, matching headstock, fretboard inlays, neck binding from wood or celluloid, rosewood fretboard with compound radius of your choice, two humbuckers or three singlecoil pick ups, carved top, chrome or nickel hardware, fixed bridge.
on extra charge:
Body with glued on top, ebony or grenadilfingerboard, curly maple or birdseye neck, black or gold hardware, tremolo, locking tuners, piezo-bridge with eq and preamp, third pick up on P90 and humbucker guitars, metal caps for humbuckers,…sh.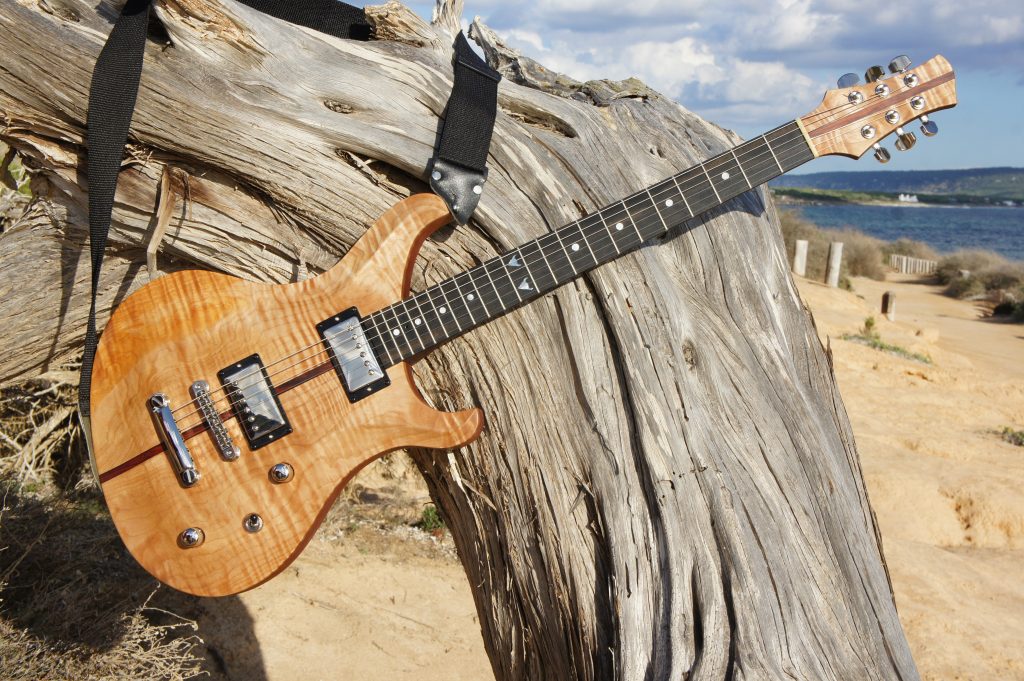 Bass
included in the course price:
Solid electric 4-string bass,flat or hollow shaped body, one piece or striped neck, neckbinding, fretboard -inlays, matching headstock, rosewood fretboard/on fretless basses ebony fingerboard, one humbucker or two single coil pick ups, wooden pick up covers.
on extra charge:
Body with glued-on top, curly maple neck, ebony fretboard, gold hardware, two humbucker setup.